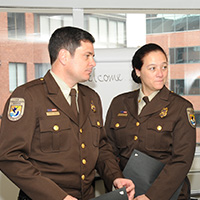 There are currently over 160,000 working-age veterans in Northeast Ohio.  After serving in the armed forces, these men and women have come home with skills and qualities that employers are looking for, such as dedication, loyalty, the ability and willingness to learn and lead, and the true grit to get the job done.
To learn how to tap into this pipeline of available highly skilled talent, Northeast Ohio Veterans (NEOVETS) is hosting a workshop for recruiters and human resources professionals on Tuesday, September 30th.
The workshop is taking place at the Independence Ohio Holiday Inn, from 8:30am to 4:00pm.  Event attendance is free and includes a continental breakfast, lunch with Keynote speaker Suzanne Stratford, Fox 8 News, and information needed to become a certified military friendly employer. 
For a full listing of the event's program and to register visit: 
https://www.eventbrite.com/e/become-a-certified-military-friendly-employer-tickets-12875245205
NEOVETS is a committed community collaboration comprised of Government Agencies, Employers, Schools and various Military Support Groups who value veterans returning to Northeast Ohio and want to retain them through assisting with employment, education, housing, healthcare and other needs they may have that will cause them to stay, live and work in Northeast Ohio. 
For more information: [email protected]