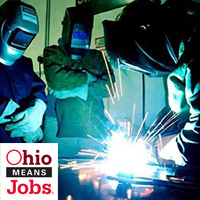 Are there jobs in Greater Cleveland? YES! There is a huge demand for people at all career levels across a diverse employer base.
Global Cleveland can connect you to the State's most comprehensive job portal, OhioMeansJobs.com where there are, on average, over 50,000 jobs in Northeast Ohio listed monthly.  As a matter of fact, last month employers advertised 66,269 open opportunities!
Tell a Friend Sweepstakes
The region needs to fill these positions.  That is why Global Cleveland launched the "Tell-A-Friend about Cleveland Jobs $1,000 Giveaway," a sweepstakes running from September 12th through December 21st.  We are asking everyone to help us spread the word about area job opportunities to their friends and family living anywhere in the world
To be entered to win one of twenty (20), $50 gift cards, go to https://globalcleveland.org/jobs/find-a-job) (see below) and click one or more of the listed social sharing icons to share a thumbnail about jobs through your social media site or through email…that's it!  
By simply sharing through email or social media that we have jobs in Cleveland you could win $50.
For details on the contest rules and to share jobs visit: www.GlobalCleveland.com/Tell-A-Friend