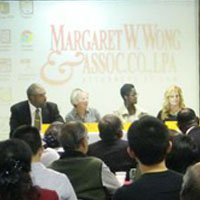 Global Cleveland, in partnership with the City of Cleveland, held five community conversations across the city with area residents in October. The meetings focused on addressing what it means to be a welcoming city.  After hearing from a panel of immigrants, refugees, and city officials, residents were  encouraged to share their concerns and questions about welcoming international newcomers to the city.
Nearly 350 newcomers, city leaders, and current residents attended the meetings.
In the coming weeks small groups of volunteers from the meetings will convene to discuss the questions, suggestions, and concerns raised at each meeting, and then hammer out a Cleveland Welcoming Plan that will be presented to Mayor Jackson, City Council President Kevin Kelly and the Board of Global Cleveland for consideration and implementation.
Stay tuned for the next steps in this important conversation!