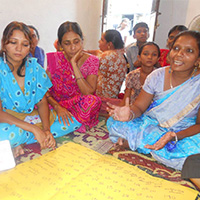 International Partners in Mission (IPM), a Cleveland-based global organization, works across borders of faith, culture and economic circumstances on behalf of women and youth to create partnerships that build justice, peace, and hope. This year, on October 12-18 IPM will host its Inaugural General Assembly in Cleveland where it will celebrate its 40th anniversary. 
During the week-long assembly, international constituencies from Brazil, Canada, Colombia, The Dominican Republic, El Salvador, England, India, Italy, Kenya, Nepal, Nicaragua, Uganda, and from across the USA will join a core of 40 stakeholders from IPM's international constituencies to broaden and deepen all aspects of their governance, operations, and programs. 
In conjunction with IPM's strategic planning activities the organization will hold a series of Public Luncheon and Dinner Events.   Featured speakers include author and travel expert Rick Steves and Dorothy Nyongo'o, African Cancer Foundation & mother of Oscar-winning actress Lupita Nyong'o.  These events will be hosted in partnership with local universities, high schools, non-profit organizations, and philanthropic partners including St. Ignatius High School, Notre Dame College, and The City Club.
Confirmed Speakers and Panel Participants For IPM's General Assembly:
Cathy Lee Cunningham, Vocapeace: Better World Living, Hailfax, Canada
Meran Chang Rogers, GALA
Priscilla D'Costa, SND, Sofia High School, Bangalore, India
Rodrigo de Castro Amédée Péret, Pastoral Land Commission, Uberlandia, Brazil
Anthony Dowell, World Food Programme, Rome, Italy
Jay Friedlander, College of the Atlantic, ME
Hillary Kazoora, Watoto Wa Lwanga, Nairobi, Kenya
J. Clinton McCann, Eden Theological Seminary, MO
Jay McNally, founder of Ibis Consulting—a Pittney Bowes Company
Randell McShepard, RPM Inc.
Paul Neundorfer, The Refugee Response
Dorothy Nyongo'o, African Cancer Foundation & mother of Oscar Winning Actress Lupita Nyong'o
Judith Ranger Smith, The Singing for Change Foundation, SC
For more information visit: https://www.ipmconnect.org/ipms-general-assembly