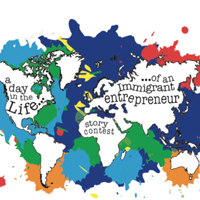 Are you an immigrant who has started your own business? Do you know a New American with the entrepreneurial spirit who drives innovation and fuels the local economy?  If so, Global Cleveland wants to hear your story!
To promote immigrant economic development initiatives and recognize Cleveland's immigrant community for its important contributions and entrepreneurial spirit, Global Cleveland is collaborating with Global Great Lakes Network and New American Media for a story contest, A Day in the Life of an Immigrant Entrepreneur. 
One winner from six metro regions will be featured in a printed book stories, and one grand prize winner will receive $1000. Entries will be judged based on the subject of the story and the quality of the storytelling.  Entries may be written and edited by someone other than the subject of the story. For more information, please visit GlobalGL.org/adayinthelife, or contact Jane Gimbel at [email protected] or 216-472-3282.  The deadline for submissions is November 26, 2014.