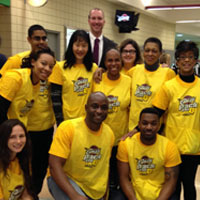 People from all over the world come to Cleveland to build new lives in our thriving city. Creating an international community falls to all of us, and by volunteering with Global Cleveland, you can participate firsthand with the globalization of Greater Cleveland.  
The more comfortable and at home international newcomers feel, the more they are empowered to land good jobs, enjoy the area and become part of the community.
Global Cleveland is committed to helping new arrivals make a smooth and successful transition, and you can play a part in this important effort. Depending on your interest, time and background, there are several ways in which you can volunteer to make a real difference in the lives of our new residents. 
Sign up to be a volunteer: https://globalcleveland.org/volunteer/volunteer-overview. 
Are you an international newcomer and need support? Sign up here: https://globalcleveland.org/int-resource/newcomer/international-newcomer-support-services
Here are some ways you can get involved:
Attraction Advocates: In this role, you will partner with Global Cleveland to personalize the Cleveland experience to potential newcomers and let them know what makes Cleveland great. Attraction Advocates distribute Global Cleveland literature and help spread GC's monthly digital newsletter to their networks and on social media. Advocates also visit immigrant- and refugee-owned business and share their experiences among those in their network. Lastly, these volunteers pledge to make a minimal $10 donation to an organization that serves immigrants and/or refugees.
Connection Job Coaches: Coaches assist immigrants and international students with career guidance and support, including help with resumes, interviewing and job skills. These volunteers have knowledge about human resource and hiring practices in our area. They also have a great professional network and strong ties within our ethnic and cultural communities.
Welcoming Mentors: Mentors help newcomers get to know our area by providing tips on where to shop, eat, play, learn and worship. All the things that make life great! The conversations mentors have with new arrivals help improve newcomers' English conversation skills. Mentors also help at Global Cleveland Welcome Hubs in their neighborhoods and share their knowledge about what it's like to live not only in our area, but also in our country. Mentors have great communication skills and the patience to work through any language barriers.
All volunteers are required to go through the Global Cleveland volunteer training program, which will provide you with the information and support you will need to be a successful volunteer. 
Want to start helping immediately?  Global Cleveland volunteers are needed  to help set up apartments and homes for refugee families. Global Cleveland is working with the International Services Center (ISC)  for this project. Our two organizations are part of the Refugees Services Collaborative of Greater Cleveland http://rsccleveland.org/. For more information or to sign up, contact Alyssa Golinar at [email protected] or 216-472-3282.